About Us
Gondola Resorts of Aspen was established January of 2011 to offer travelers a wide assortment of luxury vacation rentals in Aspen, Colorado. Gondola Resorts has vacation homes, condos or residence club options for any size family, group or conference. Our guests enjoy the very best in luxury rentals, free limousine transfers from Aspen airport and free memberships to The Aspen Club and Spa. We are proud partners with various businesses in Aspen and still growing.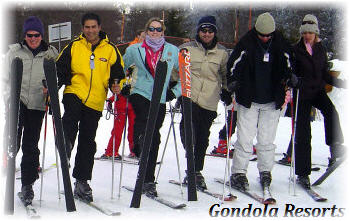 Gondola Resorts began to offer homes in the closest locations to Colorados ski resorts and set a high standard for in-home amenities and furnishings. Gondola Resorts of Aspen continues to build its business on the things that matter most to guests, as we expand our mountain resorts throughout North America.
We learned very quickly that our guests are interested in three things: Personalization, Service and Location. Thus, we pride ourselves on delivering each one, to each of our guests.
Personalization: We believe that personalizing your lodging options matters most. Our guests select the exact vacation home they desire from our website. Its the only way a guest can be satisfied with their accommodations. Each luxury vacation home that we offer is listed on our award-winning websites, where guests can locate and select the rental that fits all of their needs and desires.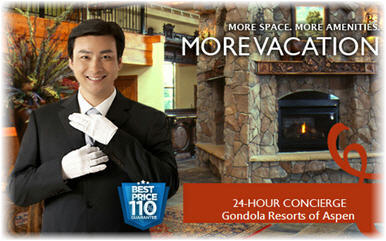 Service and Luxury: Gondola Resorts delivers the highest standard for quality vacation rentals in Aspen. All of our Aspen properties reflect a platinum or gold rating standard which means guests receive the very best in dcor, convenience and hospitality. Additionally, our guest services team at Gondola Resorts provides immediate service around the clock. Were available to our guests throughout their visit to Aspen.
Location: Gondola Resorts of Aspen carefully considers the communities and properties that are featured on our Aspen exclusive website. 90% of our vacation rentals are within walking distance to downtown Aspen and ski resort operations. Moreover, locations have been selected based on criteria that a destination has to offer, such as proximity to skiing, shopping, dining and events.
Our 4-Gondola Promise

TO OUR PATRONS: Deliver 100% satisfaction every time.

TO OUR EMPLOYEES: Provide a challenging and rewarding work environment

TO OUR BUSINESS PARTNERS: Offer the very best in ROI that we can deliver in an ethical business environment.

TO OUR COMMUNITY: Volunteer time and energy to help expand services that positively affect the growth of our community.